Divine Plumbing Services, your residential plumbing solution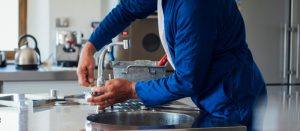 Emergency doesn't knock before coming. Maybe you are facing some unforeseen breakdowns, which has taken your sleep away. Don't worry; Divine Plumbing Services is here to help you out. Just give us a call at any point of time and we will pull you out from all those plumbing related craps. Not only that, we will minimize your stress by providing you the most advanced equipment and; skilled and professional workers, who will handle your problems with care. Whether you need a toilet unblock or your bathroom is flooded, we will take care of everything.
Services, which we provide
When it comes to the residential plumbing services, we have everything covered. With the latest equipment and expertise workers, we are capable of solving any residential plumbing related problems. You can rely on us without any hesitation and we will not let you down. So, here is the list of services that we provide:
Water heater services
Water line replacement
Pipe replacement
Leak detection and repairs
Sewer repair and replacement
Drain cleaning services
Hydro jetting services
Gas line installation and repair
Sewage Ejector Pumps
Outdoor Spigot Repair
Fixture installations
Leaky faucets
Toilet installation
Copper re-pipes
Sump Pump installations
Plumbing fixture installations
Well, you can see that we provide each and everything when it comes to the residential plumbing services. And, if you cannot see your problem in the above written list, then don't worry. We can also fix those because our workers are very efficient and experienced as they are working on it for several years. So, without any further hesitations, just come to us any point of time and we will take charge of the situation.
When do you need to call us?
There are many residential plumbing emergencies and to take care of those, Divine plumbing service is the best option that you can opt for. Now, we are going to discuss about some of the plumbing emergencies so that you can call us as soon as possible in those times:
1. Frozen pipes: It is one of the most common plumbing emergencies, which you will find. During the winters many pipes tend to freeze and eventually burst. To handle, just give us a call and we will there on your door in no time.
Gas leaks: If you can smell the gas call us as soon as possible. The deadliest amongst all, gas leaks need to be handled very carefully and safely. In that case, we have workers who will maintain each and every safety parameters and will pull you out from that situation.
Blocked toilets: Imagine a house, where the toilets are not functioning properly. Under no circumstances you can live in that house. So, make sure to contact us and we will be there in no time to take care of your toilet problems.
Advantages of working with us
As a privileged customer of ours, you will get each and every benefit. You will not get a single chance to complain about us and that is the reason we claim to be the best residential plumbing service provider. As discussed earlier we have the state of art, dedicated workers who are capable of fixing any residential plumbing related issues. The best part of our service is the budget friendly pricing. You don't have worry much about the hole in your pocket.
In case of emergencies, you will be in the top of our priority list. So, without any confusion you can come to us and rely on us at any given hour of the day, which we have mentioned several times as we are a 24/7 service and we will be there to help you out within a very short period of time.